Bobby Allison wins the 1982 Daytona 500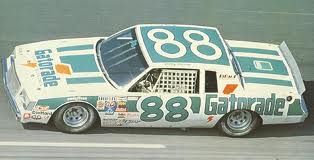 Bobby Allison would take the win in the #88 Gatorade Buick Regal. Allison dominated the event, leading 147 of 200 laps. But the story of the day was Bumpergate.
On just the fourth lap of the race, Cale Yarborough made what he later called the slightest of touches with the back of Allison's car. The bumper fell off, triggering a multicar wreck. Tim Brewer, Yarborough's crew chief at the time, charged that Allison's bumper had been somehow rigged to come off intentionally. "When we came down here and tested, we discovered that our car ran faster and handled better without the rear bumper," he claimed in the following week's issue of Grand National Scene. "I was born in the morning, but it wasn't this morning and it wasn't yesterday morning." The bumper that flew off during the Daytona 500 was a replacement for one NASCAR had deemed an inch too long earlier in the week. After the race, Gary Nelson, Allison's pit boss, showed reporters welds where the replacement bumper had been attached. "There is no way in the world I would take a chance like that," Nelson said. "When I start thinking about risking a man's life or a car in order to win a race, then I will get out of racing." Tests were performed on the car without its rear bumper and it was discovered that the car was faster and handled better without the bumper. It has been claimed that Allison and his crew modified the bumper so that it would fall off easily at the beginning of the race. NASCAR never fined him and the victory stands. Allison and his crew deny the allegations.
To watch a recap of the race, including Bobby Allison's bumper coming off, go to YouTube for the NASCAR All Out video.